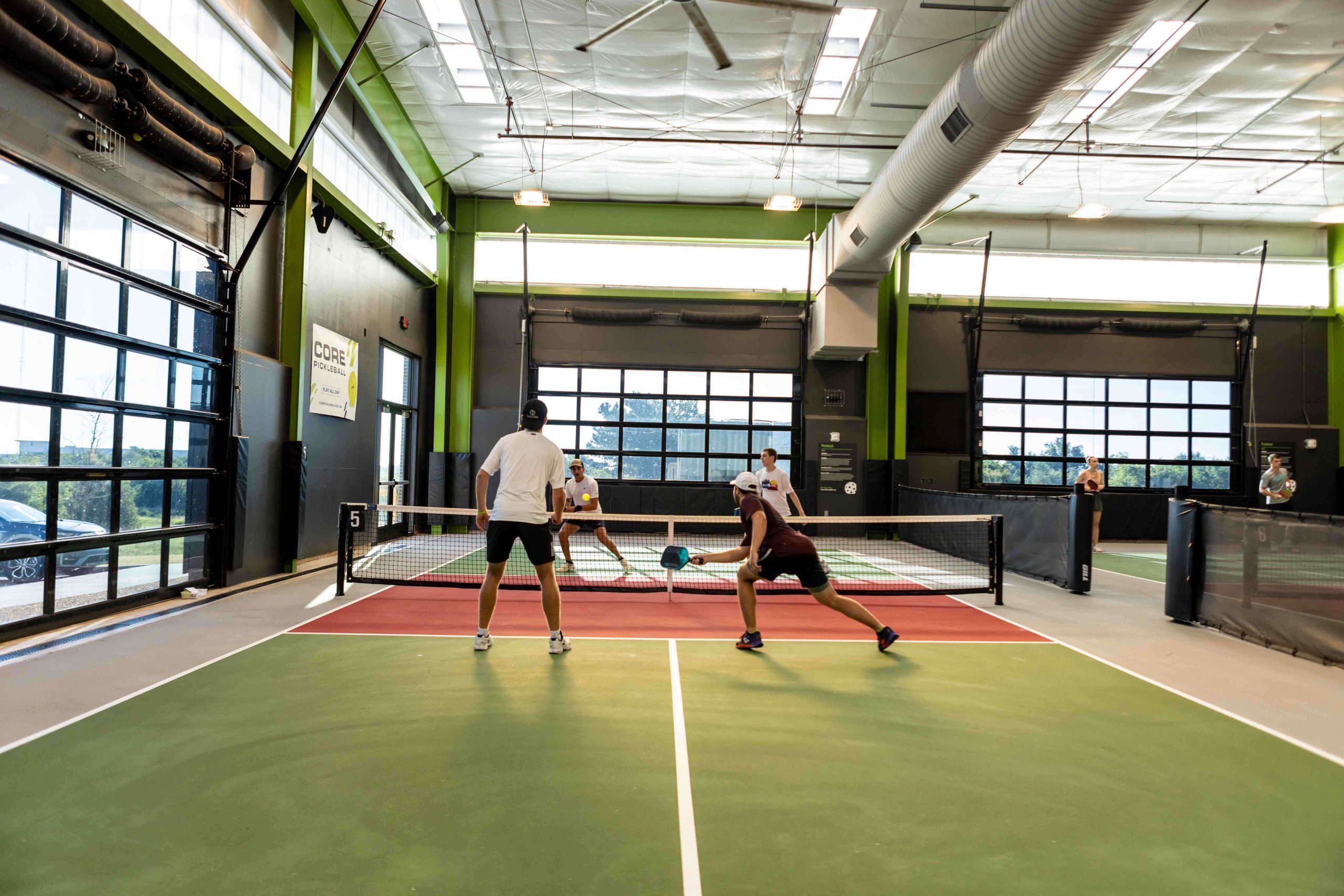 Get your ace on the court!
Pickleball is the fastest growing sport in America and is most popularly played as doubles (2v2) on a court half the size of a tennis court with an oversized ping pong paddle and a small plastic ball. The rules are a mix of tennis and ping pong and are easy and fun for all ages to play together.
Indoor and outdoor courts can be reserved online and paddles and pickleballs are available to rent on-site.
Reserve a Court
Impress your friends by telling them "We've got reservations tonight, guys." But really, please reserve a court in advance because they go fast! With multiple indoor courts, we guarantee you a good time no matter the weather. Bring your friends and see why pickleball is the fastest-growing sport in America!
Ready to get competitive?
We offer a variety of leagues throughout the year. Compete in men's, women's, or mixed divisions ranging from beginner to advanced.
Rules
Pickleball is a sport in which two, three, or four players use solid paddles made of wood or composite materials to hit a perforated polymer ball over a net. The sport shares features of other racquet sports, the dimensions and layout of a badminton court, and a net and rules similar to tennis, with a few modifications.
Pickleball 101
Scoring
Game is played to 11, win by 2. Each team member gets to serve until they lose the point, with one exception, the team that serves first only gets 1 serve. The score is a series of 3 number; serving team score, receiving team score, server #1 or #2. Ex. 7-3-2 means serving team has 7 points, opposing team has 3 points and it is the second server about to serve.
Serving
Must serve underhand from behind the baseline, cross-court, into the service area past the kitchen. Only the serving team can score points.
Quirky Rules
After the serve, the receiving team must let the ball bounce, then the serving team must let that return bounce before hitting. After that the ball may be volleyed (hit in the air) or off the bounce. A player cannot strike the ball in the kitchen unless the ball bounces in the kitchen first.
Pickleball • Pros • Pickleball Pros • Pickleball • Pros • Pickleball Pros • Pickleball • Pros • Pickleball Pros • Pickleball • Pros • Pickleball Pros • Pickleball • Pros • Pickleball Pros • Pickleball • Pros • Pickleball Pros • Pickleball • Pros • Pickleball Pros •
North Kansas City
Jack Oxler
Certified Teaching Professional IPTPA
Jack is a National Champion in 35 & over doubles, a 4-time US Open gold medalist. He's also a 3-time state games gold medalist and the #2 ranked player in the state of Missouri.
Cole Thompson
Pickleball Manager & Certified Level-1 Training & Coaching Pickleball
Cole loves everything about the sport of pickleball. He also loves long walks on the beach and the color orange! He's been a member of our team for nearly three years and is a 4.0 ranked pickleball player.
Overland Park
Isaiah Peel
Activities Manager
Isaiah received an M.S. in Sport Management and is an IPTPA Level 1 Certified Teaching Professional. He's a Texas Native and US Army Veteran.
Jack Oxler
Certified Teaching Professional IPTPA
Jack is a National Champion in 35 & over doubles, a 4-time US Open gold medalist. He's also a 3-time state games gold medalist and the #2 ranked player in the state of Missouri.
---
Wichita
Michael Harris
Pickleball Pro
Michael is a former collegiate basketball player who grew up in the Wichita area. After graduating from Conway Springs High School, he attended Emporia State University where he received his Bachelor's of Science in Recreation. Since graduating in 2016, he has worked as the Assistant Sports information Director for ESU Athletics, the Sports and Events Coordinator in Dodge City, KS, and finally as the Director of Pickleball at Chicken N Pickle- Wichita. "Before starting at Chicken N Pickle, my only experience playing pickleball was in high school gym class. I truly feel I've found a home with such amazing people here at Chicken N Pickle!"
---
Oklahoma City
Moira Roush
Pickleball Pro
Moira is a 5.5 ranked player, Selkirk-sponsored player and a PPR Certified Pro level instructor. Between 2017 and 2019, she was a USA Nationals 5x medalist and a 2019 silver medalist at the senior women's pro singles. Moira is an eight-time US Open 5.0 Champion.
Chad Weemhoff
Pickleball/Activity Manager
Chad is a multi-sport athlete he grew up in the OKC Area and went to piedmont high school he graduated from Oklahoma State University, Majoring in Sports Management while he attended OSU he was on the basketball scout team while in college, he learned about the sport of Pickleball and fell in love with the sport and enjoyed playing it since. He loves introducing everyone to the great sport of pickleball.
Les Leach
Pickleball Pro
In addition to being a pickleball, Les is a driver/paramedic with the Edmond Fire Department. He's a 2018 Men's 4.5D National Silver Medalist, a 2019 5.0 MD Mid-South Regional Silver Medalist and a multiple medal winner in State Games of Oklahoma. He's a Team HEAD sponsored athlete and an all around good guy!
Antonio Banderas
IPTPA Certified Pickleball Pro
Antonio is a former collegiate tennis player who is great teaching all ages the game of pickleball.
---
San Antonio
Justin Reynolds
ACTIVITIES MANAGER
Justin joined the CNP team in the summer of 2021 and comes from several years of management and experience in the hospitality industry. Alongside his time in the business, Justin spent 16 years playing baseball and several years at a regional level. Beyond baseball, he spent many years mixed between track and field and some college basketball. Justin is a certified member of the IPTPA program to be able to help others grow in the sport of pickleball through private lessons. Fun Fact: Justin spent four honorable years in the U.S. Navy serving on two aircraft carriers as well as being stationed in Japan and the South China Sea for over three of those years.
Mya Miller
CERTIFIED TEACHING PROFESSIONAL IPTPA
Mya started playing pickleball after her father drew lines in the backyard and couldn't stop playing since. Once CNP opened she knew this was the place she wanted to be. After playing for a couple of years she became a member of the IPTPA and has helped others grow not only their game but love for pickleball. During her spare time, Mya enjoys competing in tournaments.
Armando Valderas
Certified Teaching Professional IPTPA
Mando fell in love with pickleball as soon as he slammed the ball. Coming from an athletic background he picked up on the game quickly and was determined to be the best he could be. After growing a passion for pickleball, Mando joined CNP and the IPTPA in hopes to share his knowledge of this amazing sport.
---
Grand Prairie
Juliet Peoples
Pickleballer
Juliet is a Level 2 IPTPA Certified Instructor and has been playing for 4.5 years. She loves sharing the game and is personable and patient. She also enjoys meeting people and introducing them to the joy of the game. Juliet demonstrates the strokes of pickleball very effectively and gives good feedback to help you improve your game. She believes there is room for improvement in everyone's game, and she continues her own journey to improve her playing and coaching skills. "Success in pickleball comes with putting the time in to improve your skills"
Juliet focuses on making your time with her fun and enjoyable while learning and/or improving your skills. She always has a smile on her face and is fun to be around.
Jay Lateko
CERTIFIED TEACHING PROFESSIONAL IPTPA
Jay Lateko has been involved with the Pickleball community for the last 7 years. Jay has over 30 years of experience coaching tennis and pickleball from beginners to advance tournament-level players of all ages. He is IPTPA certified level 2 and is passionate about spreading the joy of pickleball from recreational to competitive. Jay is also an experienced tournament player and has multiple Gold Medals in sanctioned and non-sanctioned tournaments.
Austin Becker
ACTIVITIES MANAGER
Austin is a former rugby player/Manager for AG Rugby down in Austin, TX. During his time there he started playing Pickleball and quickly got hooked to the sport. He has since transitioned over to pickleball full time and is on the court any chance he gets. He is very adaptable in his lessons/approach and works great with all age groups and playing abilities.
---
Grapevine
Laura Kemp
Director of Pickleball, PPR CERTIFIED INSTRUCTOR
Laura is a PPR and Level 2 IPTPA Certified Instructor and former tennis player, coach, and instructor. She has earned several medals in Michigan including the Royal Oak Skills Tournament, Wolverine Pickleball, and Michigan Senior Games. She is also a US Open Gold Medalist in Wheelchair Doubles and Silver Medalist in Hybrid Doubles. In Texas, she has earned Gold in Singles and Silver in Mixed Doubles in the Mid-South Diamond Regional. She also earned Silver in Singles at the Diamond Amateur Championship in Florida. Laura is a former 7th grade science teacher and is on a mission to grow the Junior Program and Wheelchair Pickleball.
Wanting to learn directly from our pros? Contact Laura Kemp to set up a lesson.
Mark Assaad
PPR CERTIFIED INSTRUCTOR
Mark became obsessed with the game of pickleball 2 years ago, so much so, that he tracked down a complete stranger in a CVS to talk about the sport. Now Mark and that complete stranger are pickleball partners dominating their opponents in pickleball tournaments around the country. Mark is passionate about elevating his game and anyone who is willing to learn the game of pickleball. Mark is very active in the Grapevine community and volunteers for many local organizations. Mark is a Certified PPR Coach, he joined the CNP family to share his love and knowledge of this great sport.
Clint Head
PPR CERTIFIED INSTRUCTOR
After 10 years of tennis, Clint has quickly fallen in love with Pickleball. He is a PPR Certified Coach with a heart that is ready to teach and spread the game to as many people as he can
Joy Thetford
IPTPA CERTIFIED INSTRUCTOR
Joy taught tennis, racquetball, badminton, and other activities at TCC-NE from 1971-2012. During that time she received many outstanding teaching awards. When she retired in 2012, she became involved with pickleball, becoming a member of USAPA and SSIPA / USSP. She became an Ambassador for Keller, TX area and has been a volunteer instructor at many locations including N. Richland Hills, Watauga Rec Center and Keller Senior Activity Center. She understands the importance of learning the basics and practicing drills for continued improvement in the sport. She has held a 3.5 + to 4.1 rating in Women's Doubles and Mixed doubles for years and has won numerous Gold, Silver, and Bronze medals in sanctioned and unsanctioned events. She is super excited to be involved in the Chicken N Pickle Pickleball program in Grapevine!
GLENDALE
CJ HOYT
CJ Hoyt, a West Phoenix native, is a Certified IPTPA instructor and has won multiple gold medals in the men's 4.5 division while competing in the state of Arizona. CJ earned a degree in Hospitality Management from Northern Arizona University and is the founder of Flagstaff Ranch Pickleball and the Flagstaff Open Pickleball Tournament. When he's not on the court, you can find him spending time with his children, Viktor and Veronika, and their furry friend, Rocky the Rottweiler.
Wanting to learn directly from our pros? Contact Laura Kemp to set up a lesson.